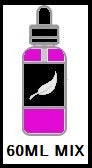 Vimanna SALT NIC 60ml Mix INCLUDING Bottle
Choose this option only if you DO NOT have your own empty bottle to refill.
Choose UP TO FIVE (5) Flavours to mix together in the same bottle.
Type your chosen flavour or flavours in the Customer Notes Box at the end of the checkout process along with any other specific variations you would like to include.
List of Flavours
RASPBERRY
FRESH STRAWBERRY
BLUEBERRY
GREEN APPLE
BANANNA
SOUR APPLE
GRAPE
ORANGE
COCONUT
DRAGON'S BLOOD
RASPBERRY CANDY
MT DEWEY
LEMONADE STAND
WATERMELON
VIMANNA (fresh strawberries, ripe pomegranate, juicy tart raspberries)
COTTON CANDY
GUMMY BEARS
JUICY FRUIT BUBBLEGUM
GRAHAM CRACKER CRUST
SERIAL KILLER (Milky sweet cereal)
MOMS CUSTARD
LIQUID CHEESECAKE
VANILLA​
HOT APPLE PIE​
MENTHOL BLAST
CARIBBEAN FREEZE
COLOMBIAN COFFEE
​CUBAN CIGAR
RUM
MOCHA MINT REHAB
ROLLING STONED (Tobacco)